How to Redeem a FNWL Discount Code
From Nature With Love is pleased to offer a discount to qualifying instructors that are approved into our Instructor Program and to their students, graduates and colleagues. (This special offer is intended only for your instructor's students, graduates and colleagues. Do not submit this discount offer to coupon or discount code sharing sites.)

Here's How To Use The FNWL Discount Code That Your Instructor Gave You...
Shop online with us and and enjoy browsing our selection of over 1,750+ ingredients and supplies. During your online checkout, enter the discount code that you were given within the Have a discount, coupon or Fundraiser code? field. The discount code MUST be entered correctly into this during your online checkout to receive your discount (see the below image).
Discount codes can only be applied to orders placed online. The discount code must be entered at the time of your online checkout in order to receive the discount off of your merchandise total. We are not able to retroactively apply discounts to past orders, and we're not able to apply the discount if you enter the code into the wrong field.
Sale items including items on special and in our clearance area, bulk sizes listed as not being eligible for a discount, the purchase of gift certificates, shipping, handling or taxes are not eligible for the discount.
Discounts are applied at the time of that your order is processed. The discount will appear on the final invoice that is included with your order.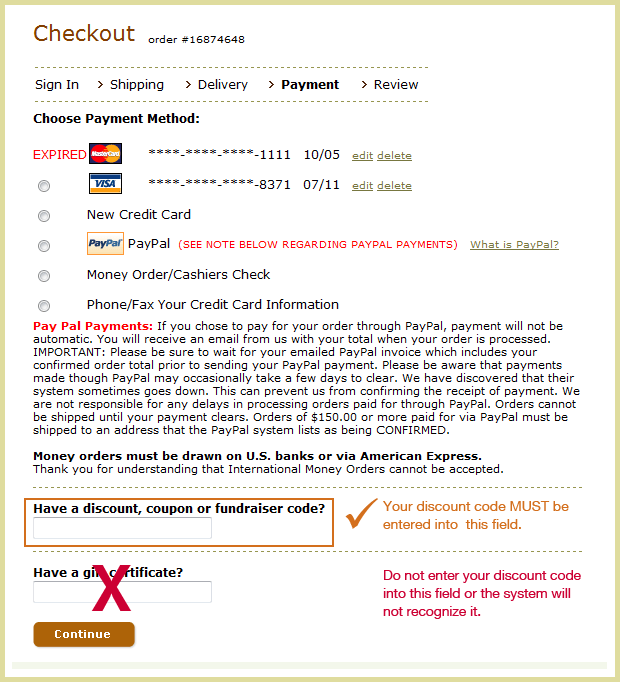 The above image is a static screenshot that depicts where to enter the discount code during your online checkout. It is not possible to actually enter your discount code above.