Ultra Clear AEA Certified Emu Oil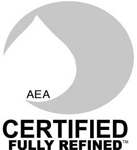 Ultra Clear AEA Certified Emu Oil possesses all of the benefits of regular Emu Oil but penetrates the skin faster, stays clear at low temperatures and has been proven to increase anti-inflammatory action of Emu Oil by 45%. The solid portion (stearin fraction) of the oil has been removed through filtration of the chilled oil. This results in an oil with less of the palmitic and stearic acids and more of the oleic and linoleic acids. Emu Oil penetrates quickly and is great for use in creams, lotions, soaps, massage oils and other formulations where the benefits of Emu Oil are desired.
Origin: US
INCI: Emu Oil
Shelf Life: 1 Year
Saponification Value (mg KOH/g oil): 185 - 200
SAP Multiplier for NaOH: 0.138
SAP Multiplier for KOH: 0.193

View sizes and prices.