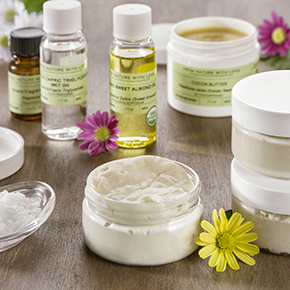 Cocoa Almond Whipped Body Butter Kit
Add to Personalized Shopping List
Average Rating:


Read Reviews
---

Customer Ratings and Reviews
Average Rating:

---
| | | |
| --- | --- | --- |
| Rating: | | 3 out of 5 |
Reviewed By: Lori
Posted: Tuesday, May 17, 2016
Location: Honey Brook, PA
Comments: Ok, so this was the 3rd body butter I have made. The first was quite greasy using shea and coconut oil. The second was also pretty greasy, but I expected it with similar ingredients. Both of my first attempts started out looking like this did when coming to room temp, but whipped up nice, white and fluffy looking like frosting. When I used this kit, the product was a beige type color like shown in the product photo - which I expected, and it turned out to be a harder, gritty consistency. I did hate that the cocoa butter came in a plastic tub. I started by melting the jojoba esters fully, then opened the cocoa butter, expecting it to be easy to pop out of the container. IT WAS NOT! I spent the next 20 minutes frantically scraping it out of the container in an attempt not to ruin the final product. I don't know if that was the reason for the consistency / grittiness, or if it was due to the jojoba esters or MCT oil, which I hadn't used in my previous attempts - or if it is just supposed to be like that. Having said all of that, the scent is wonderful. I may attempt to remake this recipe after I have used all of the jars, but I will definitely use this scent at some point in the future in some products.
FNWL Response: Hi Lori, thanks for your feedback. As we are a wholesale supplier that sells primarily to artisans and manufactures, our products are not packaged in the type of retail, end-user packaging that you may be accustomed to. We also love encouraging and working with new artisans with emerging businesses and enjoy offering our selection of kits. However, there sometimes is a learning curve in understanding the importance of how particular products are packaged for shipment and storage. Vegetable butters can melt in shipment depending on the climate, time of year and other factors. We must ship our butters in packaging that does not leak. Some butters may crystallize if they resolidify too slowly. This does not impact the quality or usability of the butter. Please feel free to read our article that explains How to Eliminate Vegetable Butter Crystallization.
---
| | | |
| --- | --- | --- |
| Rating: | | 5 out of 5 |
Reviewed By: Deanne
Posted: Saturday, April 6, 2013
Location: Saskatoon, SK
---
| | | |
| --- | --- | --- |
| Rating: | | 2 out of 5 |
Reviewed By: Whye
Posted: Tuesday, February 5, 2013
Location: Guelph, ON
Comments: I love the smell but it didn't come up fluffy. It was rock hard after I allowed the product to set. Have to dig out the product in order to use it. I remelted it and tried to whip it again and added a little more sweet almond oil to it. Read on many websites that I should whip it, put in the fridge for 5 to 10 minutes and repeat this process one more time. I did that but it still was too hard...but when I managed to scoop out the product, it was too greasy to use, even in this cold winter. There was no dry-flo included in the kit. Did I do anything wrong? Thanks.
FNWL Response: Hi Whye. It sounds like the butter didn't fully whip before it hardened. Working with whipped body butters can be challenging. We're sorry to hear that you had difficulty with this kit. The mixture needs to be whipped continuously until it becomes thick and fluffy. Depending on room temperature, the speed of whipping, and other factors, it can sometimes take longer than expected. If the butter set before it became fluffy enough, that would explain it's extra hard texture. We no longer carry Dry-Flo, so these kits don't contain that ingredient any more. That ingredient did help make the butter a little less greasy, but only a little bit. Whipped Cocoa Butter has a very rich texture by nature. You might prefer a butter made with a lighter main ingredient. I hope that you'll try making whipped butter again in the future. It can be a lot of fun once you get the hang of it.
---
| | | |
| --- | --- | --- |
| Rating: | | 5 out of 5 |
Reviewed By: Kelly
Posted: Thursday, November 15, 2012
Location: Weymouth, MA
Comments: I just bought this kit to try out the recipe and loved it! The finished Cocoa Almond Whipped Body Butter is not like the typical body butter that you buy in the store. It melts in your hand like real butter. It smells amazing and is very nourishing on your skin, especially after shaving. I will absolutely purchase full size ingredient quantities and make this again.
Total Number of Ratings: 34