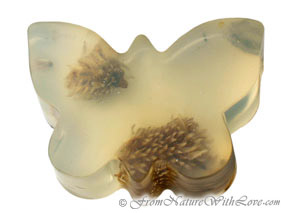 Skin Nourishing Blend Melt and Pour Soap Base
Add to Personalized Shopping List
Average Rating:


Read Reviews
---

Customer Ratings and Reviews
Average Rating:

---
| | | |
| --- | --- | --- |
| Rating: | | 5 out of 5 |
Reviewed By: Susan
Posted: Wednesday, May 27, 2015
Location: Sarasota, FL
Comments: Very gentle on the skin. Blended with pinas colada plant based fragrance. I love this.
---
| | | |
| --- | --- | --- |
| Rating: | | 4 out of 5 |
Reviewed By: Joyce
Posted: Tuesday, December 6, 2011
Location: Winter Haven, FL
Comments: I purchased this to make soap for my friend with skin problems. I have used this in the past and had no problems. But for some reason it seems to be all sweaty. It has some what of a film on it. I'm going to try to wipe it off snf them shrink wrap it. Hopefully it will be o.k. I thought this was strange.
FNWL Response: Joyce, soaps that are rich in glycerin can sometimes sweat, especially in humid conditions (I notice from your location that you live in Florida). Glycerin attracts moisture. That's why soaps containing glycerine help to retain moisture in the skin. I've never tried it myself, but I've heard that the best way to remove sweat is to put the soap under a heat lamp. Alternatively, make fresh soap, keep it in airtight packaging and if you can where you are in FL, keep it out of humidity.
---
| | | |
| --- | --- | --- |
| Rating: | | 1 out of 5 |
Reviewed By: Jasmine
Posted: Thursday, February 24, 2011
Location: Gary, IN
Comments: This soap base is absolutely awful. I just wish I had tested it BEFORE I ended up wasting active ingredients. It has NO lather what so ever and is soft. I noticed the softness before use but I didnt think it would be a problem because I was going to add a little steric acid anyway. I went through hell with this soap base. I remade and remade this soap trying to eitherit to harden or to adjust the lather because there WASNT ANY! finally gave up! What a complete waste of time, money and ingredients. After all of this I actually cut of piece of the MP Soap block & tested with warm water/sponge and warm water/face towel. I kid you not when I say this stuff had NO LATHER at all. On a scale of 1-10 the lather was a -1. A few watery bubbles & thats it
FNWL Response: Jasmine, our staff has carefully doublechecked our Skin Nourishing Blend M&P Base and finds that it lathers as it should for a non-SLS melt & pour soap base. Please do not expect it to lather as prominently as commercial detergent bars that use chemical lathering agents. From your description, it sounds like you might be overheating the base. Overheating, reheating or microwaving soap bases at high heat will ruin the lather and make the soap brittle. We strongly encourage you to heat the base at very low heat for only as long as it takes to melt the soap. Using a double boiler or double boiler insert is ideal. Additionally, adding stearic acid can affect the lather. Stearic works well in CP soap but can affect a melt & pour base.
---
| | | |
| --- | --- | --- |
| Rating: | | 5 out of 5 |
Reviewed By: Benita
Posted: Thursday, November 4, 2010
Location: Phoenix, AZ
Comments: This is the best to add to any other base or to use on its own. Chamomile essential oil is and ULTIMATE addition.
Total Number of Ratings: 5