Message from Anáil Moon Devī, Our CEO
Written During the Company's 25th Anniversary Celebration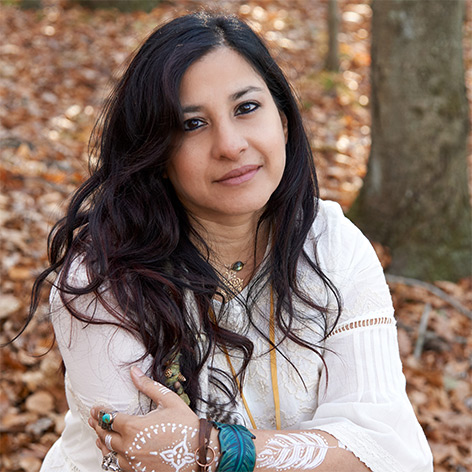 Dear Beloved Customers, Employees, Vendors and Friends:
It is an extraordinary experience to be commemorating 25 years of conscious entrepreneurship rooted in maternal love. Jay and I are celebrating our milestone with profound gratitude for our employees and our customers who are truly at the heart of this celebration. I look back at our humble beginnings with awe and wonder, knowing that we launched From Nature With Love from a serendipitous spark of inspiration. With zero business experience, but a propensity for focused effort, together, we built a business that grew out of our exploration of what wellness and a healthier lifestyle meant not only for our children, but for the future of our planet. I am filled with gratitude as I reflect on the blessings that have come together in order to enjoy this moment of success with you.
The evolution of our company has, in many ways, mirrored the evolution of our personal journeys; from learning how to effectively direct our effort, to learning how to listen deeply and steadily align our effort with our awakening inner wisdom. Our first decade was fuelled by passion, curiosity and dedication. Jay had his hands full learning the logistics of running a business and creating global connections, while I cultivated my expertise in product knowledge and steered the vision for our company. I began by devouring what little information was available on the web at the time and connecting with the technical staff of our manufacturers. I was fascinated by the potential for personal care to evolve without the burden of harmful, synthetic ingredients, or negative impacts on our health and environment, and I wanted to share my fascination with others. What inspired me the most were my personal conversations with our early customers, who were impressively innovative in their use of natural ingredients, and with our staff members who shared an active commitment to our vision. These invaluable conversations helped me chisel out the values I wanted to live by. What I upheld for my own family's well-being, I upheld for those we served, as well as our global community.
The core of our company values formed around our desire for a clean future that prioritised the well-being of our planet and our people. From the very inception of FNWL, I believed that personal care could be revolutionised and simplified by reintroducing the gifts of nature that were once part of cultural, traditional skin and hair care rituals. I was determined to remind the industry of the ancient beauty traditions that valued and effectively utilised natural oils such as tamanu, argan, and sesame to moisturise; muds and salts such as those from the Dead Sea to cleanse; pulverised botanicals and grains such as sandalwood and rice to exfoliate and sooth; and simple food ingredients such as oatmeal and honey for their nutritive benefits - without any need for colour additives or unnecessary chemicals. I enjoyed my role in sourcing new ingredients, and I equally enjoyed using the products on my own skin and in formulations. This helped me understand their qualities first hand, and be able to speak to their benefits and potential applications. Our website became a rich source of the knowledge I gathered, and it drew the attention of aspiring artisans who shared a love for handcrafted personal care products and wanted to know more about these precious ingredients. By the end of our first decade, the loyalty and impressive growth of our business customers felt like a welcome indication that our diligence in sourcing a diversity of offerings was paving the way for a long awaited emergence of cleaner, greener, personal care products.
If our first decade was about directing our effort, our second decade was about listening and aligning our effort with our developing values. It brought our focus to serving larger customers and to our growing awareness of the global impact of personal care supply chains. We recognised that even as a small business, we had a responsibility to embrace greater sustainability within our business practices. Our dedication to lowering our impact on the environment meant placing more emphasis on raw materials of organic origin and taking on several environmental initiatives. Over the years, our sourcing practices have become increasingly stringent in order to verify that our products are ethically sourced and of the highest quality.
Interestingly, a significant challenge we faced as we approached larger customers was reducing product variance while preserving the undeniable quality of minimally processed materials. I was hesitant, if not unwilling, to sacrifice the rich colour and aromatic depth of ingredients such as unrefined raspberry seed oil, rose hip seed oil or virgin plum oil for the sake of standardisation. By establishing thorough product profiles and product documentation, and by working closely with our customers, we were able to continue offering unrefined oils in their most natural state, while ensuring minimal variation. This extra effort to increase the acceptance rate of natural, minimally processed ingredients into the commercial industry has helped us gain ground in our mission towards clean beauty. When we are met with overwhelming enthusiasm at our trade shows, I am assured that natural ingredients are finally making their way into popular, global product lines, and I am thrilled to be co-navigating that evolution with our customers.
Having reached this exciting milestone, I look forward to our next decade of discovery and service to the evolution of sustainable personal care. Our newly expanded 50,000 square foot facility has given us ample room to grow as we forge new relationships and collaborations with a network of global growers and manufacturers. We hope to fill this space with more exciting ingredients that support global communities and enrich personal care formulations, and we invite all of your suggestions and inquiries.
I would like to express my gratitude and best wishes to our diligent and warm-hearted staff, and to you, our customers for merging your paths with ours on this exploration of natural, clean beauty. We would not exist without you. I believe that any conscious entrepreneur would agree that stewardship of their company and its values has led them on a personal exploration of something far greater than can be put in words. My advocacy for natural personal care products has undoubtedly catalysed a lifelong, profound and multifaceted exploration of true health as my interest in the external care of the body has extended to nutrition, meditation, alternative medicine, and contemplative practices that nourish the mind, body and spirit. In as many ways as I can, I offer my services and mentorship to those who seek a greater sense of well-being and am deeply rewarded by these exchanges. After all, as with the gifts of nature, the gifts we are endowed with are meant to serve the greater good, and so, I continue my search for what is gentle and curative to the mind, body and spirit, devoting my time to sharing what I discover and finding ways to help those outside my ordinary reach.
With this in mind, I wish you joy, I wish you inspiration and I wish you a fascination that leads you on a journey of wondrous discovery.
Sincerely,
Anáil Moon Devī
CEO
Natural Sourcing, LLC
From Nature With Love and Praan Naturals are Registered Trademarks of Natural Sourcing, LLC.