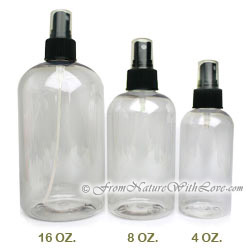 4 oz. PET Boston Round Bottles With Black Sprayers
Add to Personalized Shopping List
You have requested that we add a product to your Personalized Shopping List. We were unable to do this as you are not logged into your customer account. Please login to your Customer account or create a customer login. After logging in, please try adding this product again.
Average Rating:


Read Reviews
---

Customer Ratings and Reviews
Average Rating:

---
| | | |
| --- | --- | --- |
| Rating: | | 5 out of 5 |
Reviewed By: Tiffany
Posted: Wednesday, July 6, 2011
Location: Eatontown, NJ
Comments: Good size, good sprayer. I use them for leave-in hair products.
---
| | | |
| --- | --- | --- |
| Rating: | | 2 out of 5 |
Reviewed By: Kiersten
Posted: Tuesday, December 14, 2010
Location: Orlando, FL
Comments: When I first used this, I really liked it. The spray was good, etc., but I used it for my homemade hair oil Jojoba & fragrance oil blend and when the amount of oil got lower, the tube decided that it didn't want to stay coiled at the bottom of the bottle as it should. Instead, it slid up past the oil and wouldn't lie back down. Now I have to lift the sprayer out of the bottle to make it suck up the mixture with oily hands and spilled it a few times when it slipped out of my hands...not good!
Total Number of Ratings: 2