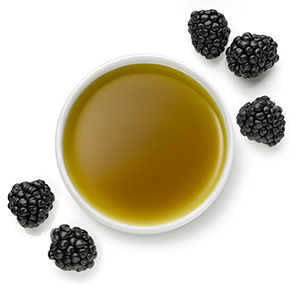 Blackberry Seed Oil
Add to Personalized Shopping List
New Lower Pricing!
Average Rating:


Read Reviews
---

Customer Ratings and Reviews
Average Rating:

---
| | | |
| --- | --- | --- |
| Rating: | | 5 out of 5 |
Reviewed By: T
Posted: Thursday, April 8, 2021
Location: Madison, WI
Comments: I was disappointed with this oil because it smelled like a strong vinaigrette, nothing like the berry smell. Not their fault if that's just how all blackberry seed oil smells, but their description of it having a characteristic sweet nutty scent or whatever is way misleading.
FNWL Response: Hi T, Our Blackberry Seed Oil is a fresh, 100% pure oil produced only from blackberry seeds. It is not an essential oil or fragrance oil. It is customary for vegetable oil suppliers to describe the oil as "characteristic" when its aroma is typical for oil produced from that species. Aroma can be highly subjective, but we're concerned and respectfully disagree with your aromatic comments. In the case of our premium quality Blackberry Seed Oil, the aroma tends to be perceived as being sweeter or fruitier in aroma than a number of other vegetable oils. We are a wholesale supplier that primarily serves professional artisans and manufacturers. Our brief aromatic summaries are consistent with the language used in our industry for describing the aroma of vegetable oils.
Total Number of Ratings: 1